AquaBox providing clean water where it is needed.
AquaBox a Rotary Club of Wirksworth project helping people caught up in disasters around the world.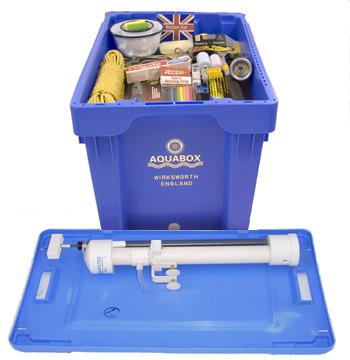 AquaBox has become a charity recognised worldwide for providing aid in disaster areas. For more information do watch the video below and visit their website.
Each of their AquaBoxes contains.
AquaFilter Family - muslin - Drainage tap - 2 survival bags - Instructional "cartoon" - and is filled with new, specially purchased, humanitarian goods as below
ESSENTIAL
EATING & DRINKING
GENERAL
Bucket
1 off
Cooking Pot
1 off
Torch +Batteries
1
Dessert Knives(4)
4 off
Sewing Thread
1
HYGIENE
Desert Forks(4)
4 off
Needles
1
Toothpaste 125g
2 off
Desert Spoons(4)
4 off
Tape Measure
1
Toothbrush
4 off
King Serving Spoon(1)
1 off
Candles
1pk (10)
Carboloic Soap
3 off
Cups/mugs
4 off
Matches
2 boxes
Cotton Wool
Packet
Bowls
2 off
Childs small toy
Doll?
Bandages
Packet
Plates
4 off
Frizbee
Fabric Dressings
1 Strip
Scissors
1 off
Skipping Rope
Razors
Packet
Can Opener
1 off
Football
one
Crepe Bandages
Packet
Food Bags x 25
1 off
Football Pump
or
Sanitary Pads x 12
Packet
Cards
two
Kitchen Rolls
1 to 4
SHELTER
Cards +Dominoes
off
Hairbrush
1 off
Clothes Line
30M
Tennis Ball
Comb
1 off
Pegs x 48
1 pack
Modelling Clay
1 pk
Tablets of Soap
4 off
Hammer
1 off
Coloured Pencils
10 off
Antiseptic Cream 30g
1 off
Packs of nails
0.5-0.25kg
Paper/pencils
1 Pack
Pliers
1 off
Garden Sacks x 10
BABY
Folding Knife
1 GPK
Rubble Sacks
8-10 off
Safety Pins
1 pack
Garden Wire, Roll 2mm
2
Ball of string
1 or 2
Terry Towelling (2)
1 off
Screwdriver +
1 off
Insulation Tape
1 large roll
Drinking Mug
1 off
matching Screws
200 off pks
Cotton Sheet
Spill Proof Cup
Brick trowel,
0.5
Towels (medium)
2 off
Vaseline
250g
Hand Trowel
0.5
Reading Glasses
Tarpaulin
12