Club Achievements 13/14
Club Achievements 2013/14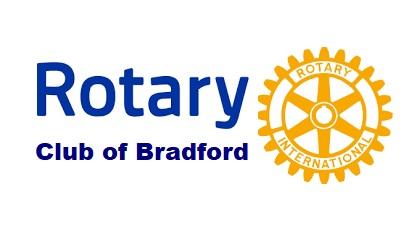 Rotary Club of Bradford Report on Service and Donations - Rotary Year 2013 / 14
This is an account of the service given and / or money distributed (actually sent or approved by Club Council to be sent) by members of the Rotary Club of Bradford (30 members) during the course of the Rotary year 2013 / 14.
In total the club raised over £11,000 from supermarket collections, social events, raffles, and members donations to The Rotary Foundation Charity.
Community & Vocational & Environmental
-Together with local community groups in Thornton, we planted bulbs in the village and maintained two Rotary flower beds
-We sponsored a Health Mela (Fair) at Bradford University which will brought health screening of many types to students and members of the public in this inner city area. Several members attended to collect for Shelterbox, Polio Plus and raise the Rotary profile.
-We supported the Technology Tournament locally by one member's involvement in the planning and with 6 members attending on the day. (Also reported in New Generations)
-We expanded a New Generations project started last year.We again sponsored young people from a local inner city secondary school to attend Rotary Youth Leadership schemes. One on the Rotary Ocean Youth Trust (£700).And another on Rotary Youth Leadership Award scheme (£500). The school matched our effort with OYT and so three young people benefited. We plan to maintain this link with this inner city secondary school.
-We have provided support to Bradford Soup Run. We raised £1000 to support this organisation and used it as the basis for a successful application for a District Rotary Grant from the Rotary Foundation Charity.
-We undertook 7 days (0900 -1800) of supermarket collections advertising the work of Rotary as well as collecting money.
-We have financially supported the following community groups or events in the Bradford Metropolitan District:-
Positive Lifestyle Bradford teaching schoolchildren morals£2000
Bradford Soup Run (for the homeless)£1000
Bradford Cathedral ministry in the city £ 770
Sponsor young person on OYT Rotary week£ 700
Sponsor young person on RYLA Rotary week £ 500
Chellow Heights Special School £ 600
Bradford Metropolitan Foodbank£ 600
Sponsorship for Bradford Health Mela £ 200
Trussel Trust Bradford £ 150
Mind the Gap theatre company for disabled £ 150
Thornton in Bloom£ 100
Children's Air Ambulance £ 200
Bradford Diocese Youth Project £ 70
Joshua Youth Project £60
Bradford Peace Museum £50
Bradford Gideons £50
Bradford Courts Chaplaincy Service £50
A total of £7250 (subtotal 1)
-To national Charities we have given the following:-
Caring for Life£50
Epilepsy Action £50
A total of £100 (subtotal 2)
Service to Youth - New Generations
-We supported the Technology Tournaments locally by one members involvement in the planning and with 6 members attending on the day. (Also reported in ComVoc)
The amounts listed in this section are already accounted above so no subtotal here
International
-We have donated two Shelter boxes £1180
-Polio Plus Donation to District £ 300
-Children of the Gambia £ 350
-Hope & Homes for Children £ 150
-Sylvia Wright Charity £ 250
-World Child Cancer £ 250
-Guildford Eye Project£50
Total£2350(subtotal 3)
Foundation & Polio Plus
-We have paid £1000 or about $55 per head at current exchange rates.
-Polio Plus Donation to District £300
-We have applied for a District Grant for Bradford Soup Run.
Total Paid to Foundation and Polio Plus £1450(subtotal 4)
Overall Club total support this Rotary year to all charities or local causes
(subtotals 1-4) £11,330
.