Ken Robertson, current District Governor, opened Rotary International District 1020 Conference 2021 on Saturday 23 October 2021, attended by myself as sole delegate from the Club for the first day sessions only. In opening the Conference, DG Ken challenged the gathered Rotarians and their partners, invited friends, guests and speakers, including North Lanarkshire's Lady Provost, Jean Jones, in all around 300, by saying that a "million Rotarians' hands can make a real difference to the World, hands with open arms and open minds, hands which embrace inclusivity."
A pre-recorded talk under the banner "Serve to Change Lives," given by Shekhar Mehta, Rotary International World President 2021-2022, a member of the Rotary Club of Calcutta-Mahanagar, West Bengal, India, followed. Shekhar Mehta's main appeal to Rotarians was "to grow more, do more." Shekhar was encouraging of diversity, younger members and more women, with Rotarians committed to "bigger, better and bolder Rotary projects." He called upon Rotarians to "re-enter the spirit of Rotary" and, in togetherness, to "Serve to Change Lives."
During the morning session, Elliot Jackson, National Convener of Children's Hearings Scotland, gave the first of several engaging presentations. He spoke about Children's Hearings, the aim of which is not to be punitive but, in engaging with children in trouble with the Law, to focus on children's needs, rather than their deeds. There are currently 2,500 volunteer Panel Members nationally. More volunteer Children's Hearings members are being sought, with a new recruitment drive due to commence in January / February 2022. Information on Children's Hearings generally and regarding volunteering is on the Children's Hearings Scotland Website onhttps://www.chscotland.gov.uk
Sue Morris, District Chair of Inner Wheel District 2, and member of Kirkcudbright Inner Wheel, of which Hilary was sometime Chair, spoke of Inner Wheel District and Club meetings continuing on Zoom and of Inner Wheel's efforts during the Pandemic to make masks and scrub bags and supporting local Food Banks.
A musical interlude with a performance of Gaelic Songs by Cumbernauld Gaelic Choir was much appreciated and applauded. Two of their number had recently entered themselves for the recent Mod and returned winners of their section.
Unable to be present in person through illness and appearing through a pre-recorded message made earlier in the year, Nikki Scott, RIBI's enthusiastic International Director, spoke of the need for Rotarians "to buy into change." She recalled that Rotary's beginnings were in Chicago, where Nikki had herself joined Rotary. The first Rotary Project in 1906 had been to build public toilets in Chicago. She was encouraging of local Rotary Clubs acting in collaboration with other agencies to bring about change across the age groups. She cited the example of one Club in the Cotswolds that plant annually a vegetable garden in a local school. She posed a question "Would your community note if your Rotary Club wasn't there?" Nikki issued the challenge to Clubs to "expand our engagement, expand our reach and expand our input."
Next speaker was Jane Walker MBE who spoke about Rotary International's support through District / Global Grants of the work of her Charity, Purple Community Fund, (https://www.p-c-f.org/) and its impressive and energetic work among the poor of the Philippines (where Jane has spent several years of her life) in particular alongside families living and working on landfill sites.
The Lunch Break afforded time to network, to renew old friendships and make new. There were sizeable delegations of members from two local Clubs, Dumfries and Kirkcudbright to meet. Speaker Jane Walker's partner, a former Prison Governor still involved in work in prisons, and two young women, who had recently joined their Rotary Clubs, Kilsyth and Linlithgow & Bo'ness Clubs and myself found ourselves sharing the same buffet lunch table. One of the women was the only woman in her Club with older male members. She too was a sole delegate of her Club who had come along to find out more about the ethos of Rotary International. We agreed that the Conference environment of the morning session had gone a long way to achieving this.
Afternoon speakers included globe-trotting John Miles, a member of Guilford Rotary Club John talked about his Club's own sponsored global charity, GLOBAL SIGHT SOLUTIONS, (www.globalsightsolutions.org) which aims to provide centres across the world for treatment of debilitating eye conditions and avoidable blindness through glaucoma, retinal detachment, diabetic retinopathy and cataract and also provide treatment centres and hospitals to further the charity's objectives.
John's talk was followed by a presentation by Sepsis victim, Corrine Hutton, author of "Finding Your Feet". She sought to raise awareness of the condition which causes thousands of deaths annually through bodily organ shutdown and for those , with possible need for limb amputations. Corrine spoke of being struck down by Sepsis herself eight years ago as a young mother. She required amputation of both legs below the knee and both her hands. Movingly, she shared her hard and emotional journey towards recovery. Corrine has learned to walk again following the provision of prosthetic legs. Additionally, three years ago, she received, through generation from a deceased donor, double hand transplant surgery and now enjoys 95% function in the right hand and 75% in the left.
Delegates were then introduced by District 1020 Scholars Liaison Officer, Olive Geddes, to four of the current five District 1020 Visitng Rotary Scholars, two from Texas, sponsored by Currie Balerno Club, one from North Dakota sponsored by Edinburgh Club and the fourth from Brisbane, Australia, sponsored by Linlithgow & Bo'ness Club.
The concluding speaker contribution of the first day of Conference was on the Environment, a new area of concern for Rotary International. The speaker was Alistair McIntosh, academic and activist on matters environment, author of "Soil and Soul" and "Riders on the Storm" among other published works. Alistair, a native of Lewis, was sponsored in his early working life by Rotary International to undertake study work in Papua New Guinea which has led him to his career in Human Ecology, involving the study of the interactions between man and nature in different cultures. Alistair campaigned successfully against the super quarry proposed for Lingerbay on Harris in the Outer Hebrides, the application for which was withdrawn in 2004.
Photographs from the Conference: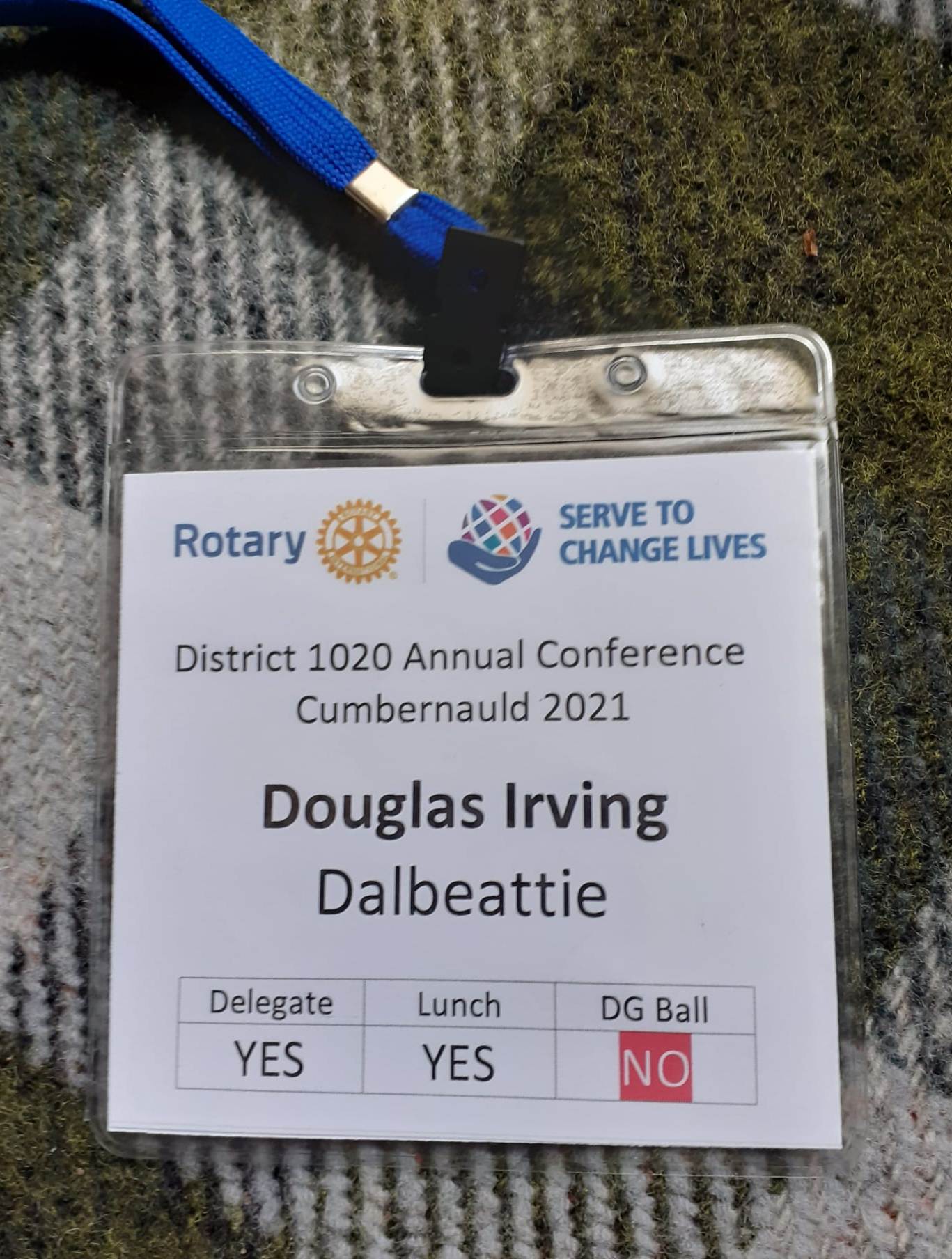 Met on arrival by a Rotary Roman Centurion from the nearby Antonine Wall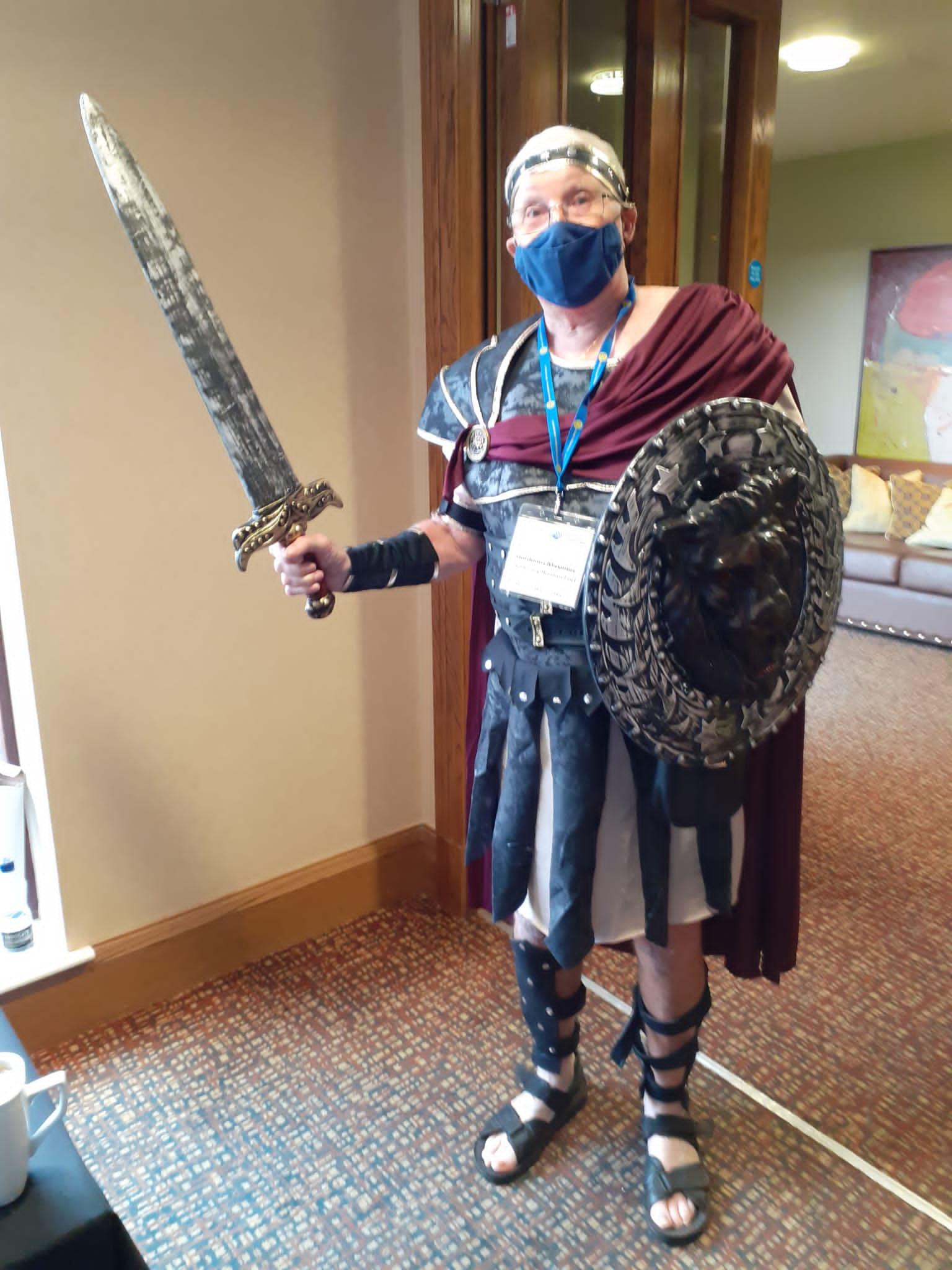 Conference Hall

Cumbernauld Gaelic Choir perform to Conference audience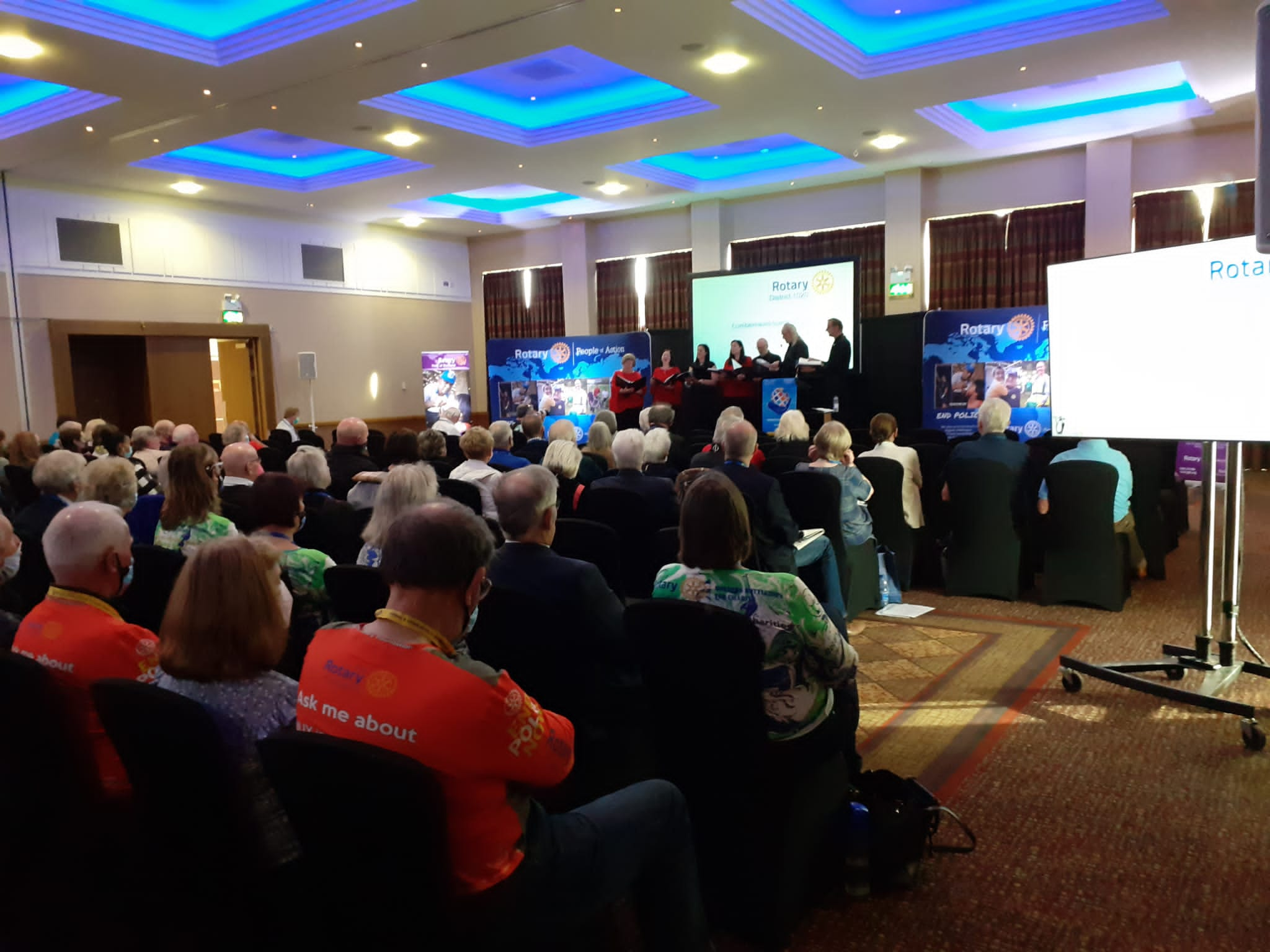 Conference Shelter Box Stall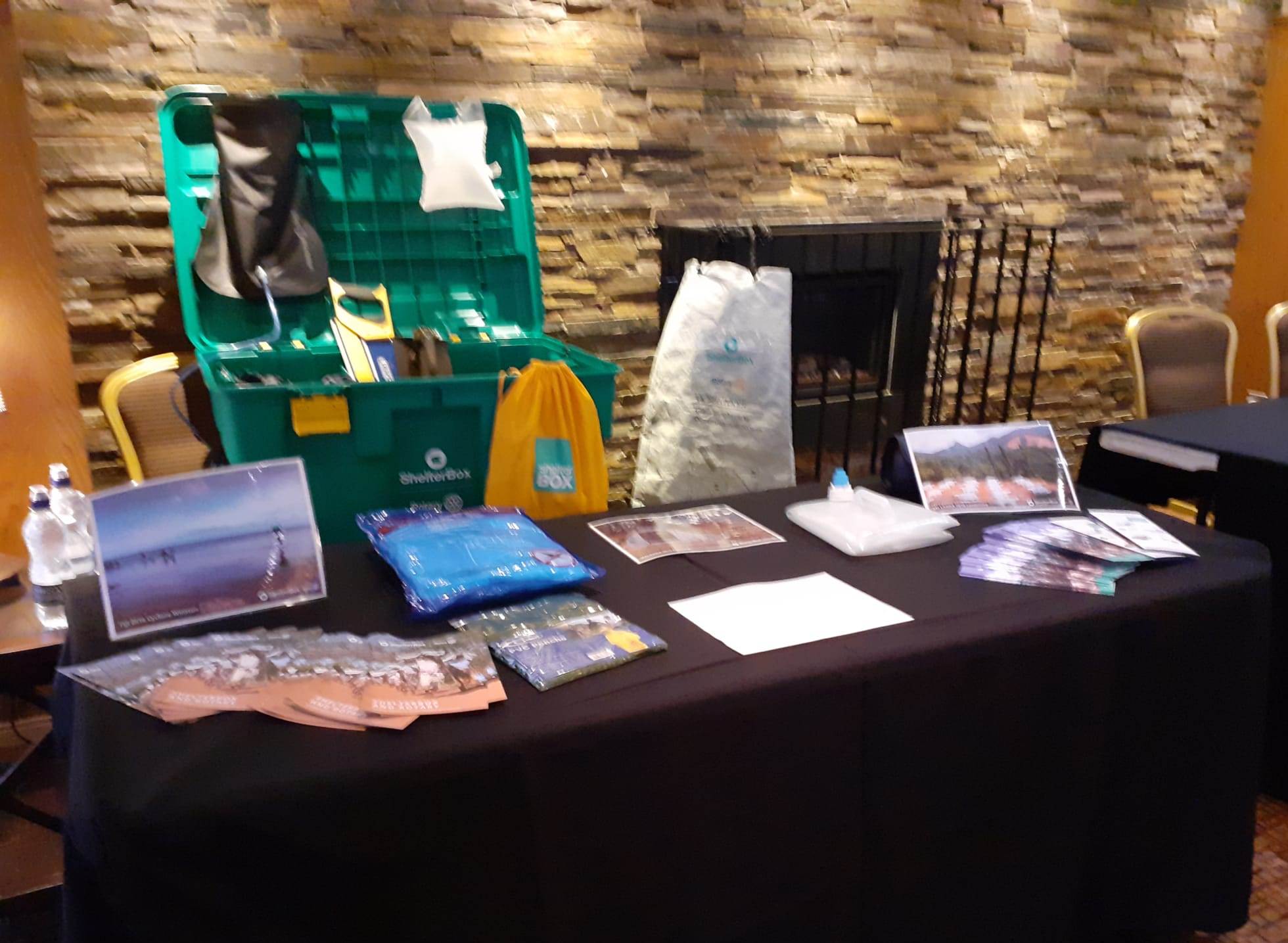 Conference Sustaining Members Stall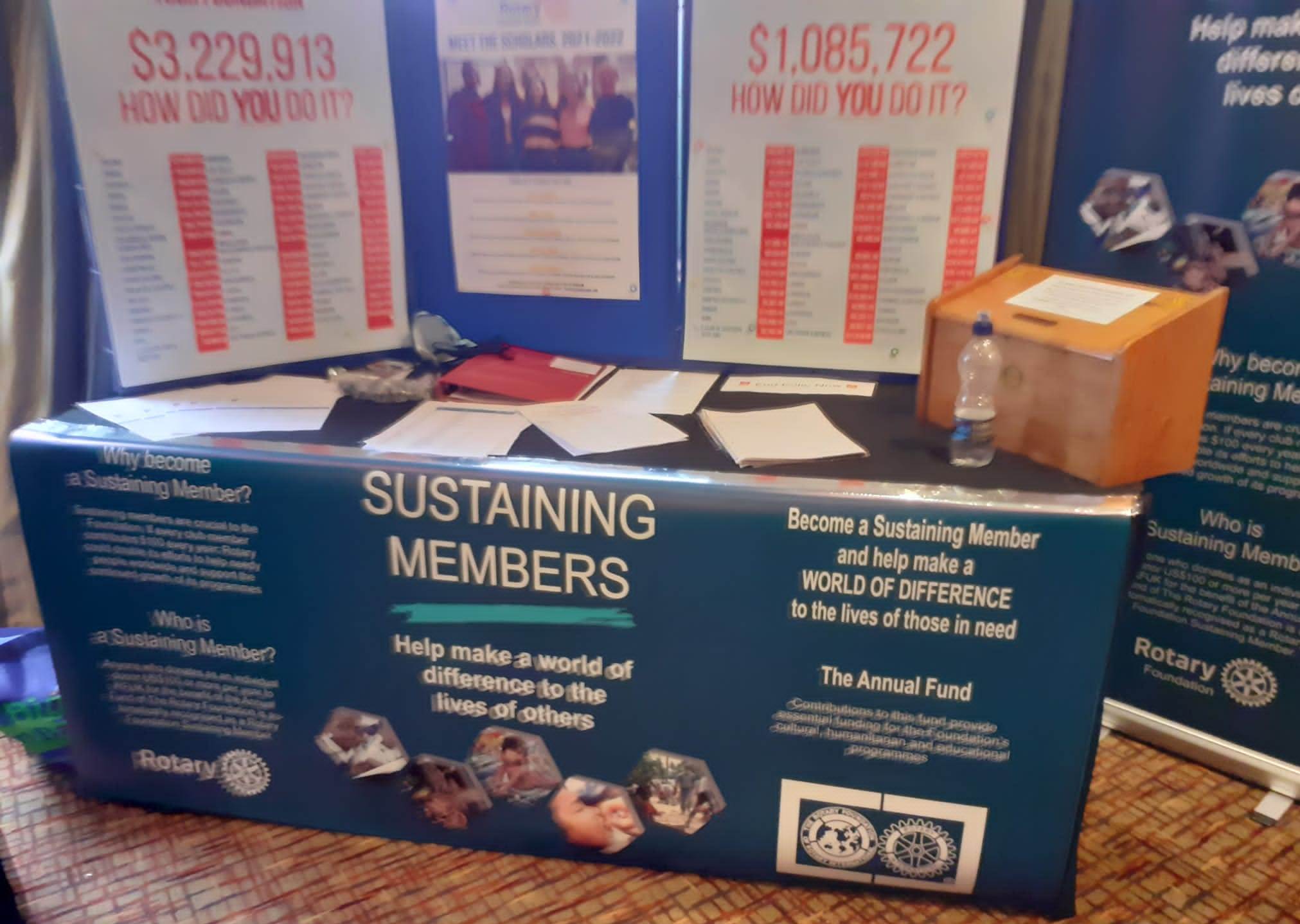 The Figures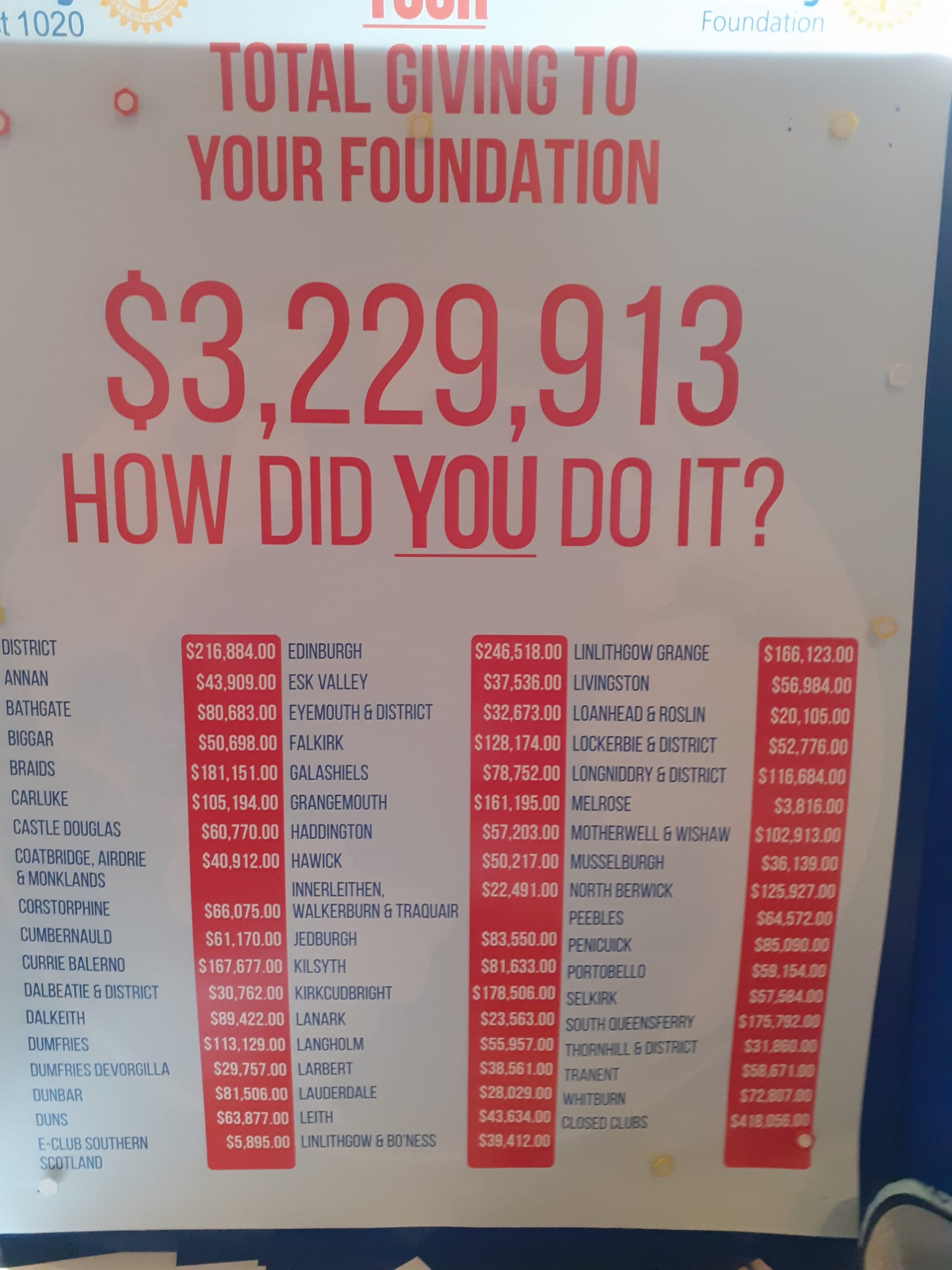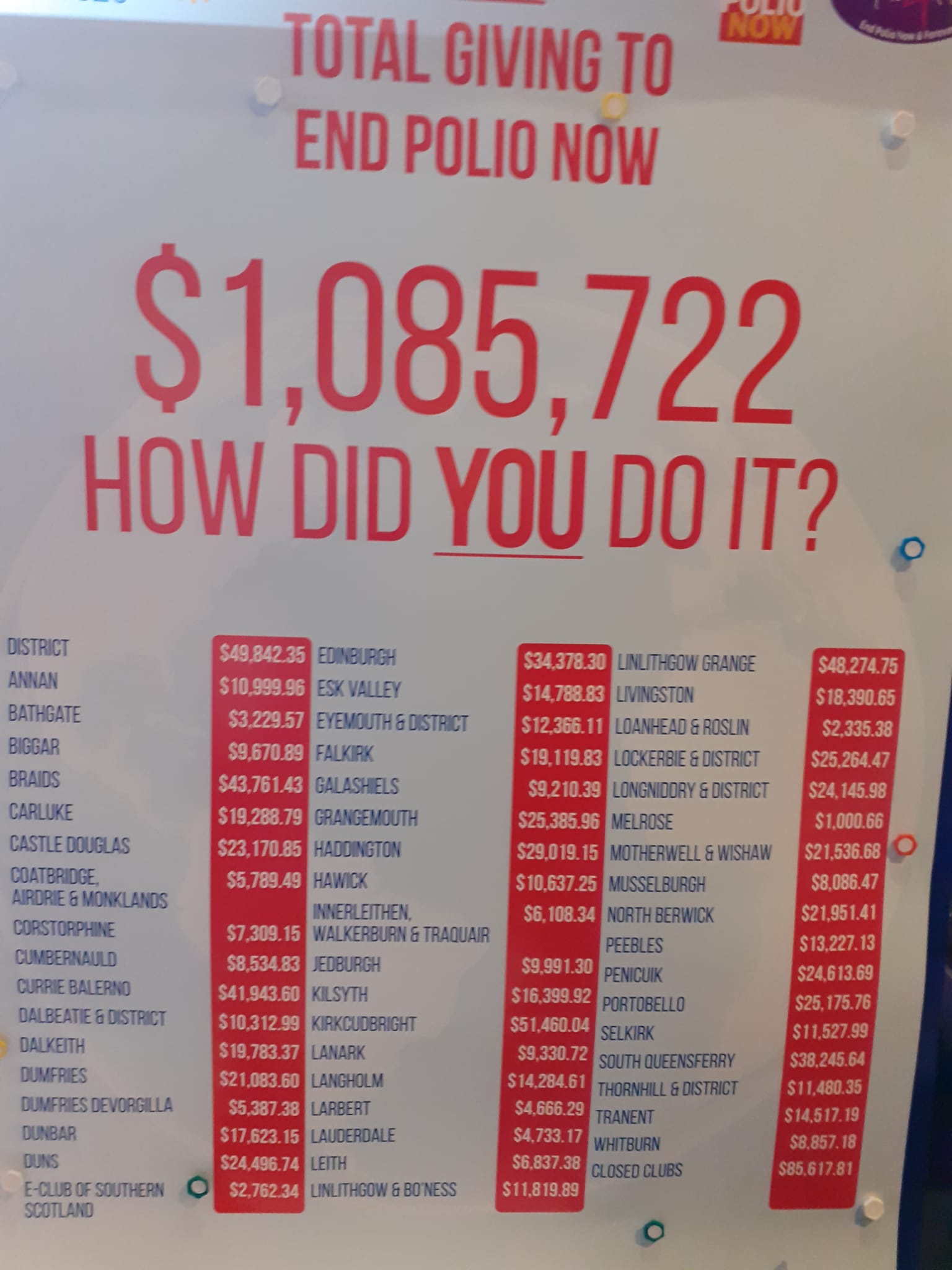 Tee Shirt Appeal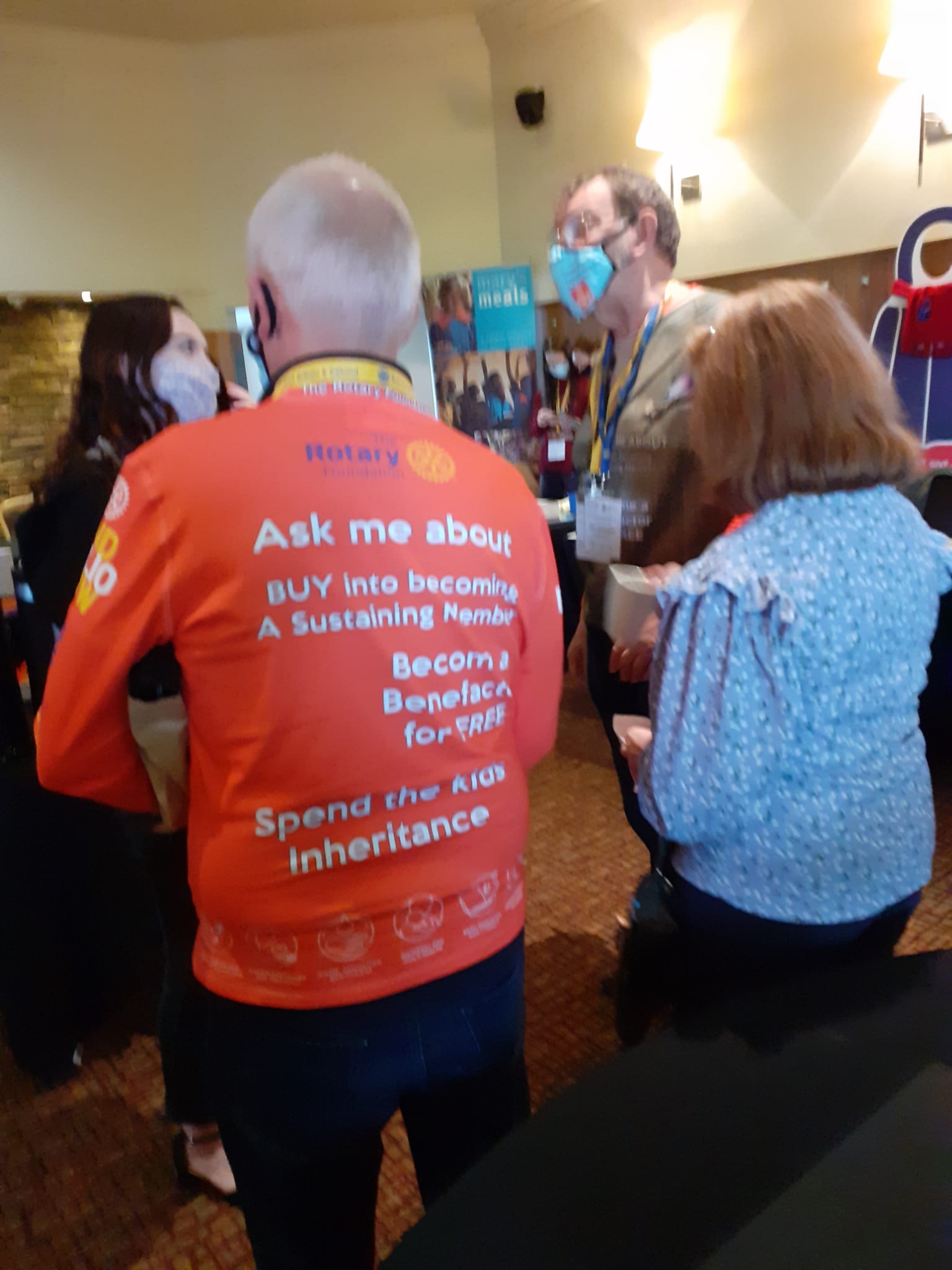 Global Sight Solutions Presentation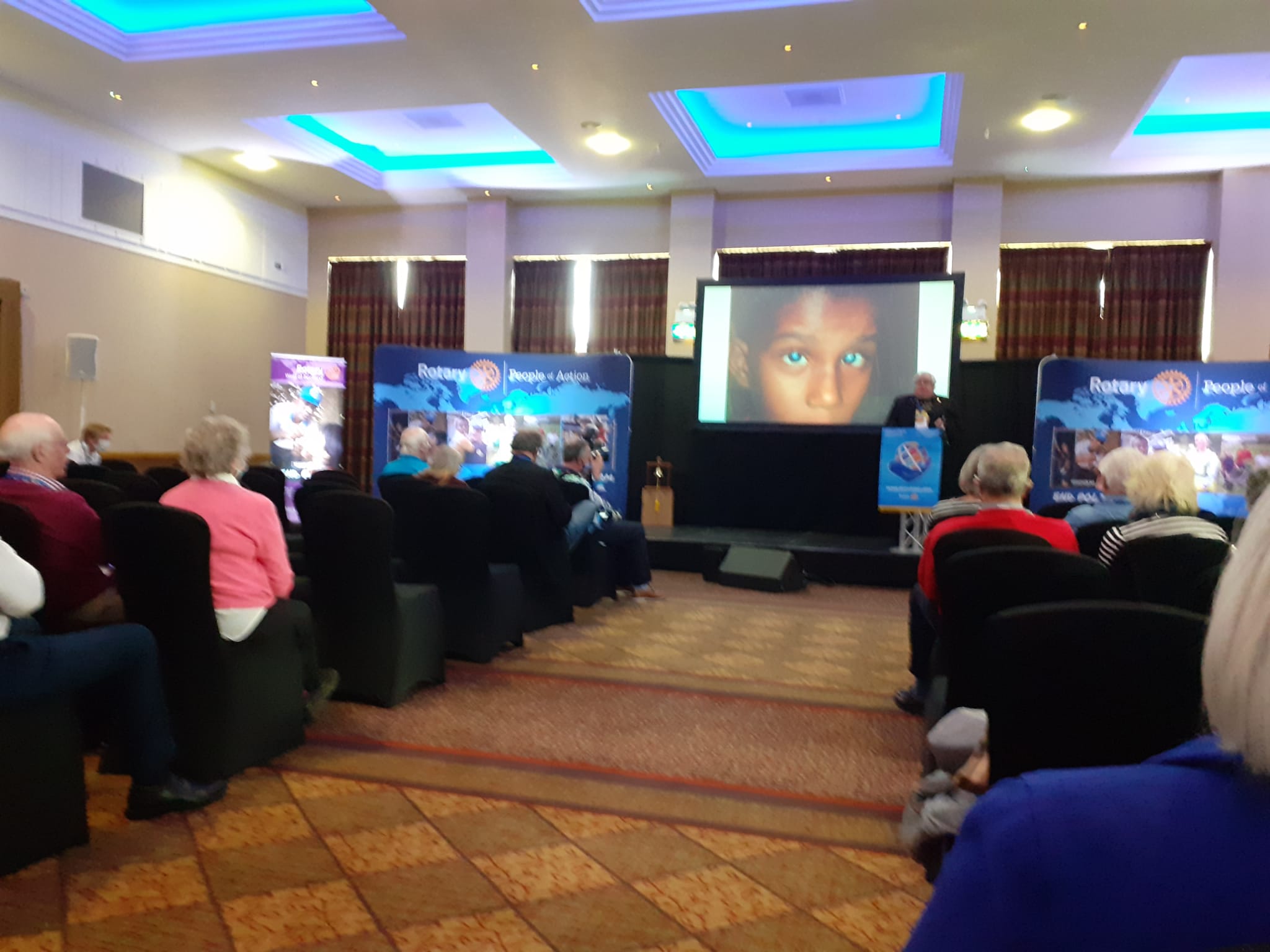 Sepsis Victim Corrine, showing her hospitalised with one of her blackened feet, pre-amputation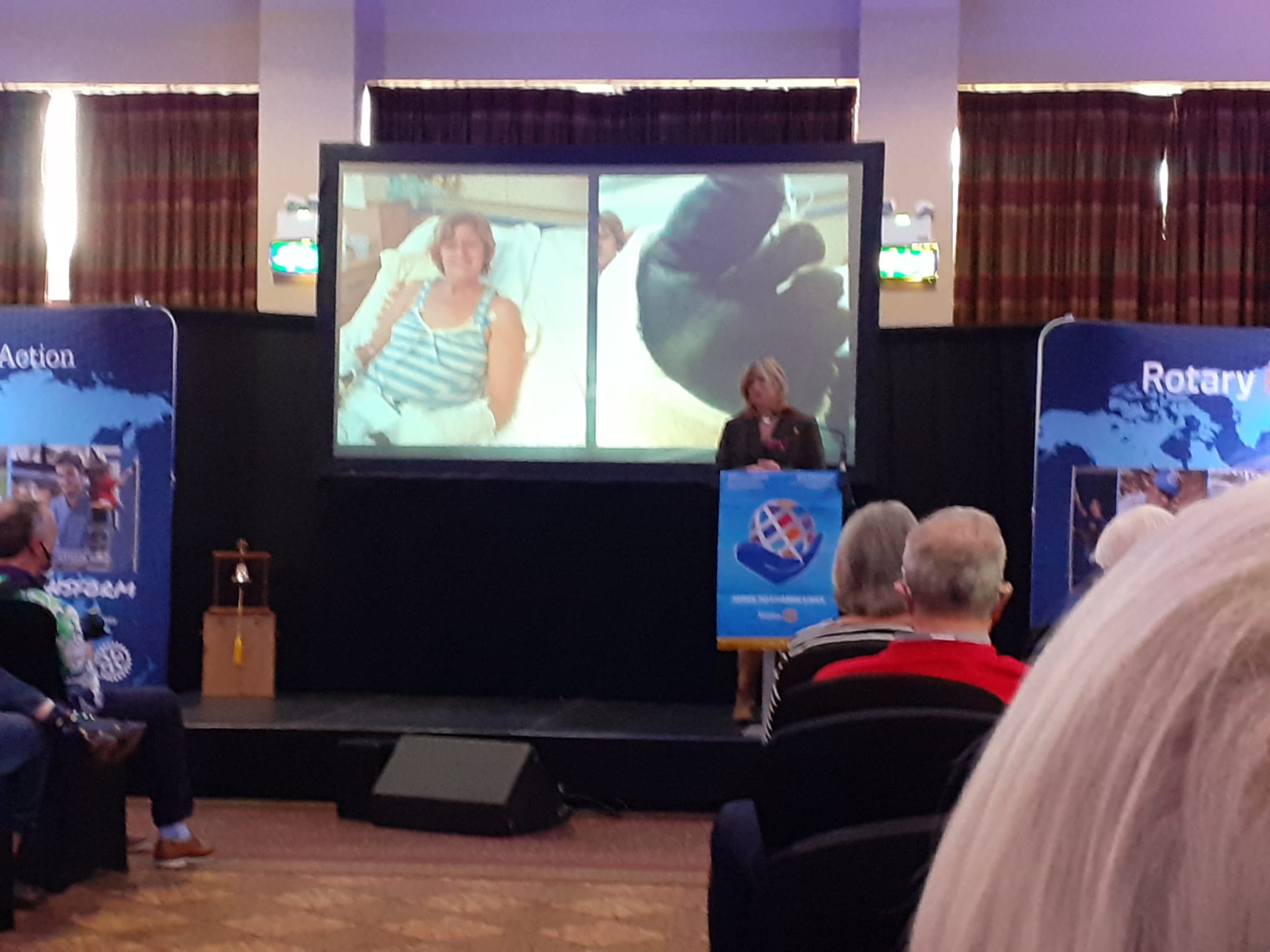 Meet the District 1020 Visiting Scholars 2021-2022