Three Forts Marathon and Half Marathon.
The Three Forts Marathon is the special one as it is approx 27.2 miles and covers rough terrain and steep climbs. The proceeds go to a local charity.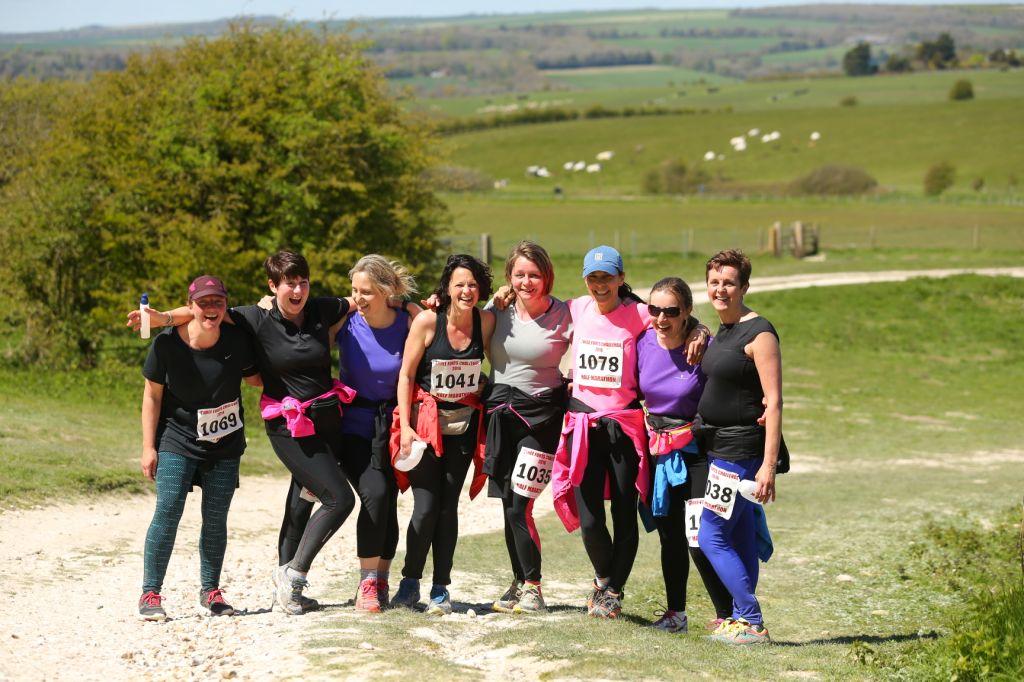 Known as 'The Tough One' the Three Forts Marathon covers approx. 27.2 miles including a total climb of c.3450ft with stiles and rough tracks underfoot. In wet weather another hazard arises as the chalk, the predominant surface, can be very slippery. The route runs northwards from Hill Barn, Worthing to Cissbury Ring, then eastwards toward Coombs then to Botolphs and the River Adir crossing. The next part of the route goes to Devil's Dyke and back to the River Adur. It continues on the South Downs Way to Chanctonbury Ring where it swings south-west to Findon Park Farm. |It stays on public bridleways to Cissbury Ring and back to Hill Barn.
The Half Marathon, with a total climb of c.1450ft takes a shorter route to Steyning Bowl and picks up the last part of the marathon route. The routes for the runs are clearly signed with marshals stationed at key places. There are eight Aid Stations spaced along the route providing refreshments and support to entrants.
There are changing and toilet facilities at Hill Barn and refreshments (food and drink) are available at Hill barn.There is a massage service available and all the runners and walkers who complete the course receive a medal which is richly deserved!
The net proceeds have been donated in recent years to South Ferring Country Centre a local charity which gives help through horse riding to disabled young people. It is a very worthy well-run charity.
Rotarians have been instrumental in the organisation and running of this event and they make up many of the of volunteers who do the setting- up and taking-down and act as marshals. Both participants who race and those who do the backroom work all enjoy the experience and the general 'buzz' of the occasion. usually over 700 take part in the two events and competitors come from all over the country and from abroad.
The last Three Forts marathon took place on Sunday 5th MAY 2019. There were over 700 entrants for the Marathon and Half-Marathon - a similar number to the the previous year. The weather was perfect.(continued)
Winners 2018: Marathon Paul Sargent, Burgess Hill, First lady Lucianne Albrecht, Arunners
Half Marathon Owen Knight, Worthing & Dist Harriers First lady Catherine Harris, Serpentine R.C.
Winners 2019: Marathon Seb Jones, Clapham Chasers First lady Sharon Walker, Dorking/Mole Valley
Half Marathon: Anddrew Donno First lady |ade Elphick