Polio Plus - Rotary's project to help with other agencies to eradicate Polio from the world
An account of the spectacular scheme to remove Polio from the whole world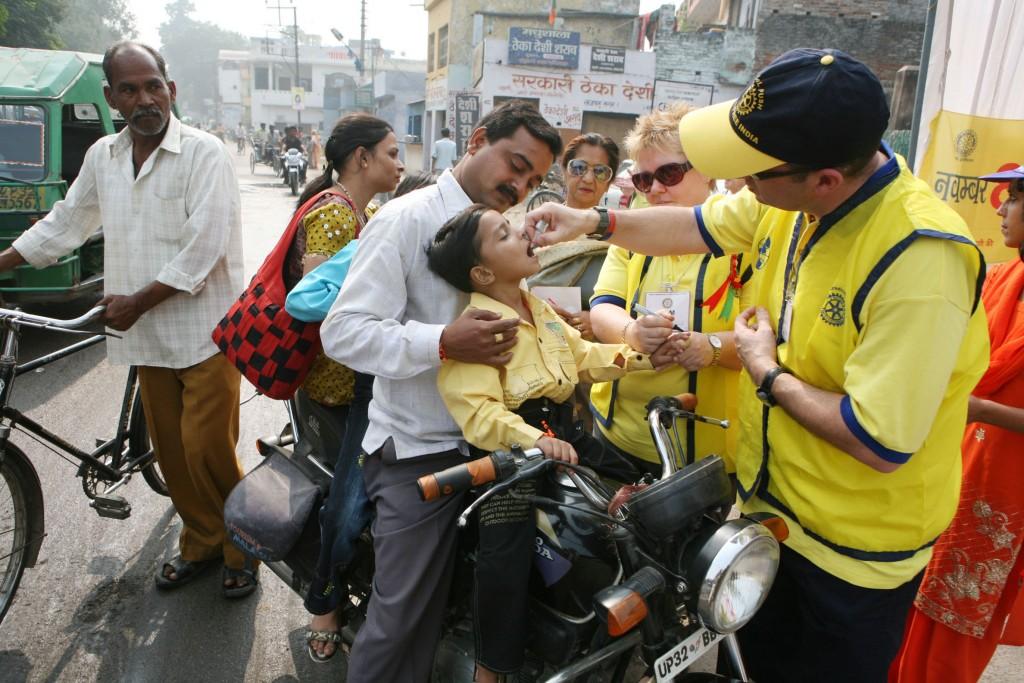 The Polio Plus (Polio Immunisation) Campaign is the largest service project undertaken by Rotary and its greatest achievement. Polio created misery for hundreds of thousands causing permanent crippling or paralysis and in many cases also death. Those of an older generation will remember young people in this country being imprisoned in iron lungs to enable them to breath. In 1985, concerned that each year 350,000 contracted the disease Rotary resolved to eradicate polio from the world by means of the Salk vaccine, in collaboration mainly with the Red Cross, the W.H.O. and the U.S Centres for Disease Control. Rotary has spent over US $1.8 billion to date on the campaign. 2.5 billion children have been protected with very many Rotarians taking part in mass immunisations in some instances of several million children in a two week period in a concentrated region of Asia. In the last few years the Bill Gates Foundation (Bill Gates the American philanthropist and his wife Melinda) has joined the Rotary Polio Campaign and has made the offer that for every £1 raised by Rotary he will triple the sum so that £1 becomes £3 which is a large incentive for Rotary to maximise its fundraising for this worthy cause.
Today there are less than a hundred cases in the world and we expect to remove this scourge within a few years but the fight must not be allowed to weaken - we are 99.999% there. We need public support to reach our final goal of complete eradication. Once we have achieved this Rotary will no doubt enter into a fresh challenge to improve the lives of humanity.
Our club has been very active over the years in fundraising to support this great cause by organising events and holding street collections. We consider the ongoing fight to eradicate Polio to be the greatest of Rotary's achievements in its long history.
You can find out much more about Polio Plus from various easily accessible websites linked to this one and by using your internet browser.
STOP PRESS; W.H.O. REPORT DATED 31 MAY 2017 STATES THAT
IN 2016 THERE WERE ONLY 37 POLIO CASES IN THE WORLD - 13 IN AFGHANISTAN, 20 IN PAKISTAN AND 4 IN NIGERIA
IN 2017 TO END OF MAY JUST 3 CHILDREN HAVE BEEN PARALYSED IN AFGHANISTAN AND 2 IN NIGERIA. THIS SHOWS PROGRESS BUT FUNDS CONTINUE TO BE NEEDED TO IMMUNISE THE MANY CHILDREN WHO ARE AT RISK. THE BATTLE IS BEING WON BUT THE WAR IS NOT YET OVER!
SINCE 2017 ACTIVITY TO KILL OFF THIS HORRIFIC DISEASE HAS CONTINUED AND ROTARIANS HAVE CONTINUED TO SUPPORT THE EFFORTS TO IMMUNISE PEOPLE TO ELIMINATE POLIO FROM THE WORLD. 12/2020