ShelterBox
A charity our club supports which supplies emergency shelter when natural disasters occur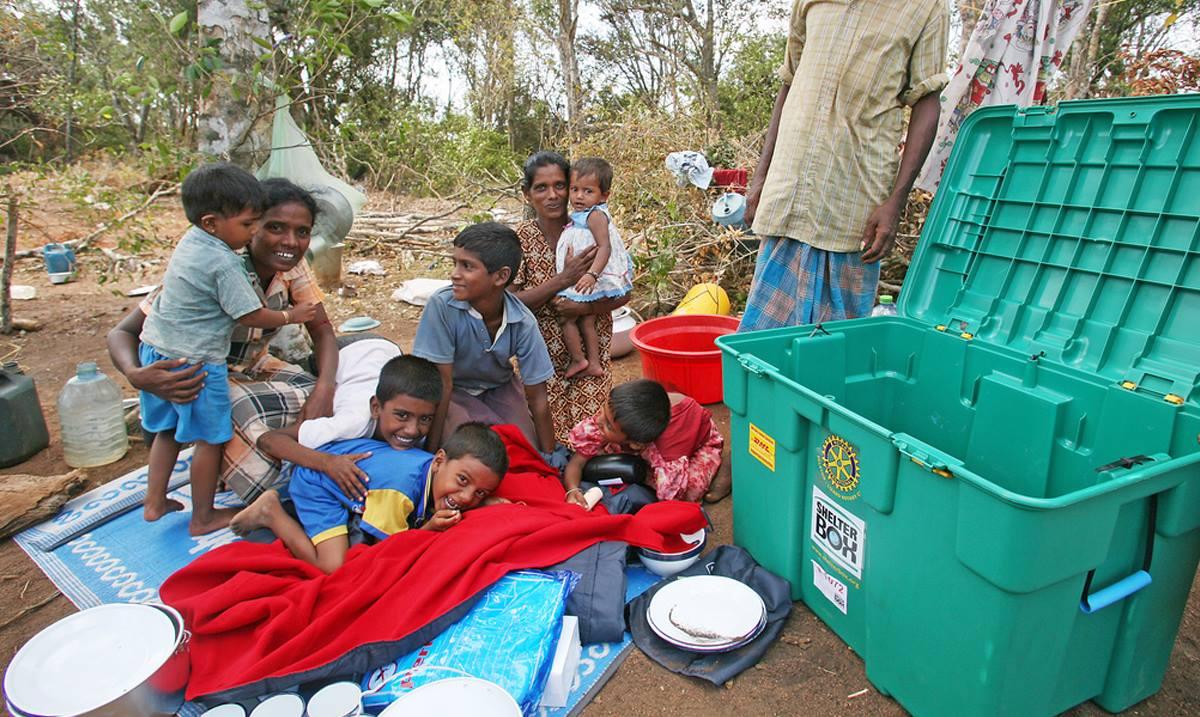 A ShelterBox is used to provide emergency aid to people rendered homeless by natural disasters and other causes. A ShelterBox is a very robust green plastic box which contains a family sized tent which is weather-proofed and is designed to withstand extreme temperatures, high winds and heavy rainfall. Its contents depend on the climate where the disaster occurs but standard items include solar lights, water storage and purification equipment, thermal blankets, cooking utensils and tools.
The ShelterBox charity depends on voluntary giving and each tent costs around £600 to include transportation costs needed to despatch boxes where they are needed within 72 hours from one of its 21 locations around the world. These are backed up by affiliates and many international partners around the world.
With 10,000 boxes on hold they are able to respond to disasters on a weekly basis. Not only do Rotarians across the world assist in fundraising for the ShelterBox project but they are often 'feet on the ground' providing logistical support and invaluable local knowledge to help reduce response times and deliver aid to those in need. There are approximately 35,000 Rotary clubs in the world so Rotary is well-placed to do this.
ShelterBox was founded through the vision of one man, a member of the Rotary Club of Helston-Lizard in Cornwall. He and his fellow members progressed the idea and adopted it as their millennium project. Little did they know in 2000 that their small charity would grow to be one of the most respected humanitarian agencies in the world.
The first consignment of 143 boxes was sent to victims of the 2001 Gutarat earthquake. Over the next three years the project matured and by the end of 2004 nearly 2,600 boxes had been dispatched following 16 disasters. The charity significantly expanded its work in response to the 2004 Indian Ocean earthquake and huge tsunami. ShelterBox has response teams which go into disaster areas with boxes to generally help the affected community with setting up the tents etc.
In 2002 ShelterBox's American affilliate was adopted as a project of a Rotary Club in Sarasota, Florida and thereby ShelterBox USA was established as a non-profit organisation. There are ShelterBox hubs firmly established in both Australia and Canada.
One of ShelterBox's largest responses was to the 7.0 magnitude earthquake in Haiti in 2010. ShelterBox provided shelter for 28,000 families approximately 25% of all tents delivered in the area surrounding Port au Prince.
ShelterBox has the facility through sophisticated monitoring equipment to identify potential weather threats such as cyclones and hurricanes and to make strategic plans in advance.
In the Rotary year 2018 / 2019 we paid for three ShelterBoxes.
From the foregoing it is not difficult to appreciate why our club has been a staunch supporter of ShelterBox and over the years we have paid for a good number of boxes. As the charity was founded by Rotarians, clubs have been very generous in their financial and practical support and Rotary International is contracted as Shelterbox's official Project Partner.