Christmas Collections
A huge thanks goes to everyone for your support and all the hard work and preparation undertaken by many. It is worthwhile when you see the sheer delight of the many hundreds of children and people of all ages when they see Santa in his Sleigh. That applies whether it was in the Broadway on Saturdays and Market Days or visiting the streets of Chesham and surrounding area. It was very special for the children to have the opportunity to see the Sleigh and Santa. Magic moments for all.
A big thank you also to everyone involved who makes it possible to get the Float and Santa out and about to be seen so much in and around Chesham. This applies to the Rotarians in the background handling the towing duties, the groups who take the Float out in the evenings, and many more who's help is invaluable.
Overall it has been another memorable experience not least for the children to see Santa in his Sleigh, that is after all what this whole thing is about.
Chesham Rotary Club will always welcome enquiries about membership. We are looking for new members who would like to get involved in the local community and the many different events we take part in during the year.
If interested please give us a call on 01494 785076 or email
secretary@chesham.rotary1260.org
Thank you once again and Santa is looking forward to seeing you all next Christmas.
Via Justgiving (use the QR code below)
Or click the button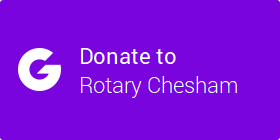 By Text *
• 1ELF to 70450 to donate £1.00
• 2ELF to 70460 to donate £2.00
• 5ELF to 70470 to donate £5.00
• 10ELF to 70480 to donate £10.00
• 20ELF to 70490 to donate £20.00
* Texts cost the donation amount + 1 standard rate message
Make a BACS payment to:
Account Name: Rotary Club of Chesham
Sort Code: 30-91-91
Account No: 00139508
Give a Cheque made payable to:
"Rotary Club of Chesham"
REGISTERED CHARITY N0: 1032366