Yes, the District 1260 Bowls Tournament was won by the team from Chesham – consisting of Brian Gregory, (Captain), Peter Threadgold and Helen Salisbury.
On a beautiful day earlier this month on Thursday 16th September the three of us polished our woods, drove to Bushy, walked up and down the greens with smiles on our faces. But we did not think we were going to win. For many years we have come through in 2nd place but never a win. What a great day. The friendship and camaraderie throughout these games is second to none and plays such a tremendous part of the event.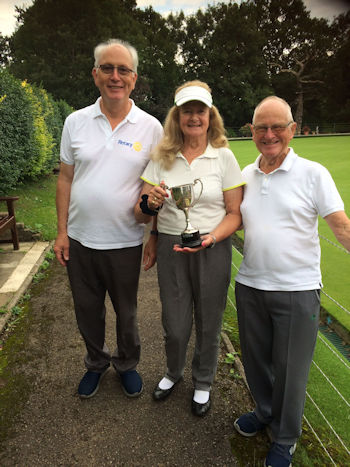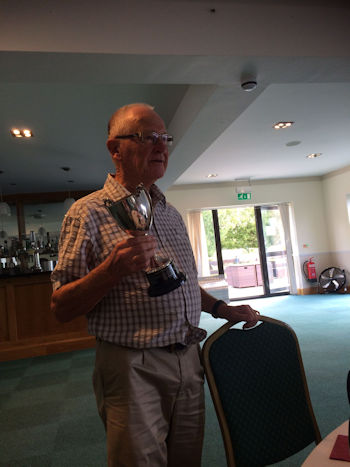 We were delighted to bring home the Fred Butt Trophy for Rotary District 1260. This, of course, means that the Rotary Club of Chesham will have to organise next year's tournament. Details of this will follow when necessary.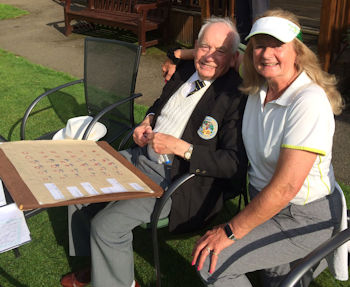 Mick Lord, from Rotary Club of Luton Chiltern has been instrumental in organising all the Tournaments that Luton Chiltern have won – which was four times.
A couple of photographs here show retired Rotarian, Neville Brant who is over 90 years old. Neville is a marvellous character and has been organising and scoring at the annual Tournament for many, many years. He always looks forward to the day, is very happy to help out. Neville very much enjoys seeing and chatting to everyone who is participating.
Neville was an extremely good bowler in his day and he and his team, Bushy & Oxley were the first to win the trophy in 2004.
Rotarian Helen Salisbury